Policy Effective Date: December 2011
Policy Last updated: August 2023
This privacy policy sets out how MidVision uses and protects any information that you give MidVision when you use this website. MidVision is committed to ensuring that your privacy is protected. Should we ask you to provide certain information by which you can be identified when using this website, then you can be assured that it will only be used in accordance with this privacy statement. 
What we collect
We may collect the following information:
Name and Job title
Contact information including email address
Demographic information such as postcode, preferences and interests
Embedded content from other websites
Articles on this site may include embedded content (e.g. videos, images, articles, etc.). Embedded content from other websites behaves in the exact same way as if the visitor has visited the other website.
These websites may collect data about you, use cookies, embed additional third-party tracking, and monitor your interaction with that embedded content, including tracing your interaction with the embedded content if you have an account and are logged in to that website.
Comments
When visitors leave comments on the site we collect the data shown in the comments form, and also the visitor's IP address and browser user agent string to help spam detection.
An anonymized string created from your email address (also called a hash) may be provided to the Gravatar service to see if you are using it. The Gravatar service privacy policy is available here: https://automattic.com/privacy/. After approval of your comment, your profile picture is visible to the public in the context of your comment.
Contact forms & Cookies
If you leave a comment on our site you may opt-in to saving your name, email address and website in cookies. These are for your convenience so that you do not have to fill in your details again when you leave another comment. These cookies will last for one year.
If you have an account and you log in to this site, we will set a temporary cookie to determine if your browser accepts cookies. This cookie contains no personal data and is discarded when you close your browser.
When you log in, we will also set up several cookies to save your login information and your screen display choices. Login cookies last for two days, and screen options cookies last for a year. If you select "Remember Me", your login will persist for two weeks. If you log out of your account, the login cookies will be removed.
If you edit or publish an article, an additional cookie will be saved in your browser. This cookie includes no personal data and simply indicates the post ID of the article you just edited. It expires after 1 day.
What we do with the information we gather
We require this information to understand your needs and provide you with a better service, and in particular for the following reasons:
We may use the information to improve our products and services.
We may periodically send promotional email, using the email address which you have provided, concerning new products, special offers or other information which we think you may find interesting. We will only do this if you have purposefully opted in to receive this type of information.
From time to time, we may also use your information to contact you for marketing purposes. We will only do this if you have purposefully opted in to receive this type of information. We may contact you by email, phone, fax or mail. We may use the information to customise the website according to your interests.
How we store your personal information
If you create a user account, post a comment on our blog, a question on our forum or make a request on one of our web contact forms, some personal information will be stored within this website's database. These are currently the only occasions where personal data will be stored on this website.
This data is currently stored in an identifiable fashion; a limitation of the content management system that this website is built on. In the near future we aim to change the storage of this data to a pseudonymous fashion meaning that the data would require additional processing using a separately stored 'key' before it could be used to identify an individual.
Pseudonymisation is a recent requirement of the GDPR which many web application developers are currently working to fully implement. We are committed to keeping it as a high priority and will implement it on this website as soon as we are able to.
Security
We are committed to ensuring that your information is secure. In order to prevent unauthorised access or disclosure, we have put in place suitable physical, electronic and managerial procedures to safeguard and secure the information we collect online.
Where we send your data
Visitor comments may be checked through an automated spam detection service.
Links to other websites
Our website may contain links to other websites of interest. However, once you have used these links to leave our site, you should note that we do not have any control over that other website. Therefore, we cannot be responsible for the protection and privacy of any information which you provide whilst visiting such sites and such sites are not governed by this privacy statement. You should exercise caution and look at the privacy statement applicable to the website in question.
Controlling your personal information
We will not sell, distribute or lease your personal information to third parties unless we have your permission or are required by law to do so. We may use your personal information to send you promotional information about third parties which we think you may find interesting, but only if you tell us that you wish this to happen.
You may request details of personal information which we hold about you under the Data Protection Act 1998. If you would like a copy of the information held on you please write to us at the email address at the bottom of this page.
If you believe that any information we are holding on you is incorrect or incomplete, please write to or email us as soon as possible, at the address at the bottom of this page. We will promptly correct any information found to be incorrect. Should you wish to have your personal data deleted, please email us at the address at the bottom of this page, including, if applicable, the User ID or email address you registered with. 
How long we retain your data
If you leave a comment, the comment and its metadata are retained indefinitely. This is so we can recognize and approve any follow-up comments automatically instead of holding them in a moderation queue.
For users that register on our website (if any), we also store the personal information they provide in their user profile. All users can see, edit, or delete their personal information at any time (except they cannot change their username). Website administrators can also see and edit that information. In accordance with GDPR rules on data retention, accounts that remain inactive for more than 2 years may be deleted, which will remove all of your personal data from our systems.
Children
THIS SITE IS NOT INTENDED FOR CHILDREN.
Persons below the age of 18 should not transmit personal data to us without the consent of their parents or legal guardians.
We are committed to protecting the privacy needs of children and we encourage parents and guardians to take an active role in their children's online activities and interests. The Site is not intended for and may not be used by children under the age of 13. We do not knowingly collect information from children under the age of 13 and we do not target the Site to children under 13.
We may not intend to collect or solicit information from people who are minors. However, as a condition of use for minors in those countries or regions where information gathering from minors is considered illegal, guardians will be responsible for accompanying minors for prevention of any unexpected circumstances when they access the Site.
If you believe that we have collected information about a child under 13, please contact us at enquiries@midvision.com, so that we may delete the information.
Site Tracking
Cookies
We may automatically collect certain information through the use of "cookies." Cookies are small data files that are stored on your hard drive by a Web site. Among other things, the use of cookies helps us to improve the Site and your experience on the Site. We use cookies to see which areas and features of the Site are most popular, to count the number of computers accessing the Site, to personalise your experience and to remember your preferences. If your browser is set not to accept cookies or if you reject a cookie, you may not be able to access certain features or services of the Site.
Google Analytics
Like most websites, this site uses Google Analytics (GA) to track user interaction. We use this data to determine the number of people using our site, to better understand how they find and use our web pages and to see their journey through the website.
Although GA records data such as your geographical location, device, internet browser and operating system, none of this information personally identifies you to us. GA also records your computer's IP address which could be used to personally identify you but Google do not grant us access to this. We consider Google to be a third party data processor.
GA makes use of cookies, details of which can be found on Google's developer guides. 
Changes to this Policy
We may may make changes to this policy from time to time. If we do so, we will amend the "Policy Last Updated" date shown at the top of this page. Please review this page regularly to ensure you are happy with any changes.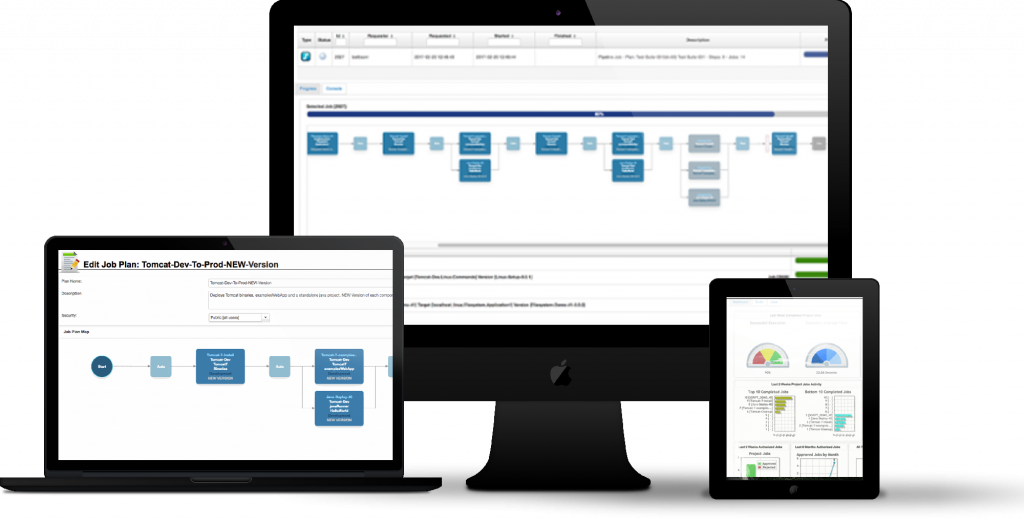 Get started with MidVision RapidDeploy today